My Japanese candy subscription service Candy Japan has been steadily growing. While the club is still small and sending the envelopes to subscribers does not take more than 2 days per month, it is taking a lot of mental space. I have a bit of anxiety about how to take it forward.
I had been thinking about starting a gift club already for some time. My first spreadsheet with "back of the envelope" -style calculations is from 2008. Back then the idea was "A gift-of-the-month subscription service delivering neatly packaged items from Asia, with a clearly written description of the significance of each month's item".
Back then I was coasting on my MySpace app which was doing well, so I didn't actually start working on the club until the app platform completely collapsed around end of last year, right after I had moved from Finland to Japan again. It was the right time to try something with Japanese products, as I have easy access to them now.
I had some doubts about going into physical goods again.
There are many repetitive tasks and annoying details such as VAT / customs paperwork to deal with that you cannot really assign to anyone else until you get bigger volume. With my previous online store dealing with Japanese books I was never able to achieve that volume. Plateauing at a just below life sustaining profit was very frustrating. It took a long time to recognize that the bookstore was going nowhere and shutting it down, which turned out to be a great decision as it freed up my time to write the MySpace app, which did vastly better.
This time things look brighter. I already have almost the same amount of customers in two months as I had for the bookstore after two years.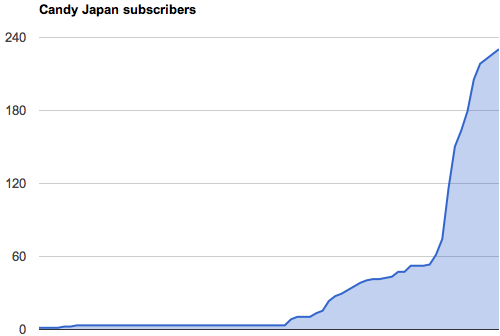 What has been happening lately with the club then, is it all roses? Not completely, here are some things that are causing me anxiety.
1) I worry about getting shut down by PayPal because of the lack of package tracking
PayPal requires you to keep documentation of every package sent. At some random point they can shut you down and then demand to see this documentation. Am I collecting this tracking information in anticipation then? No.
Why not?
To get this tracking information, I would need to pay Japan Post $5 / package. Since my profit per package is only $2, this is impossible. That $5 does not even buy tracking that works in all countries. For assured tracking, the next level is sending by EMS which costs about $20, completely impossible with the current size of envelopes.
2) Shipping directly from Japan feels wrong
I have some curiosity about setting up shipping better to make sure that items arrive as they should. Currently I have only the feedback of subscribers to go by to discover what really happened with the packages I sent. So far I have not received any negative comments and the feedback I did receive were confirmations that packages had arrived safely and intact.
What I dream of is having local hubs where I could send larger packages, with customs cleared.
At this point in time the extra costs from this will almost certainly not be worth it, but out of curiosity I have been looking into it. It seems like a useful thing to know in case I want to start exporting something else too.
So the idea would be to first export the candy to US, then send it forward from there. Amazon now provides a service called Fulfillment by Amazon. You send Amazon your items, they put it in their warehouse and you can then later dispatch it using API calls. Seems great.
The downside is that package branding will be Amazon branding and customers might feel odd about subscribing to an exclusive Japanese club, only to get packages from Amazon instead. But really that would be better for everyone and seems like "the right way" to do things. As an additional bonus, I could list my items for sale on Amazon.com, too.

I have sent FBA my first test item to see if I can get it to appear in their system.
3) Worry about trouble with FDA because of lack of direct manufacturer connection
While USA is less than half of my subscribers, playing nice with Food & Drug Administration still concerns me. As it is I am sending the envelopes as "gift candy assortments". There is an exception in FDA rules which says that an assorted gift package from an individual to another individual should be let into the country without problems.
If I do not indicate that it is a "gift", then I have to show that the food is safe for consumption in the US. Of course it is, as it is factory sealed and made by one of the largest candy manufacturers in Japan, but I still need to prove that to be true.

I can agree with the idea of checks like these, as they keep food safe and give consumers confidence that they can trust the food they buy. All I need to comply is to send a prior notice to the FDA upon importing food to the US and include the "food facility code" of the factory that made the food. But this is where I am stuck. These facility codes are not available online. To start with I wanted to send candy manufactured by a big company called Meiji. I know this food is safe, as Amazon is already selling Meiji products in the US.
But where can I find the facility code? There is no online directory of food factory FDA codes. I have no personal contacts at Meiji. I have twice attempted to contact them through their web form. Both times I did get a reply, which was "sorry, we can't help you" (「アメリカ食品医薬品局の登録番号につきましてはご回答できませんことをお詫び申し上げます」).
On the FDA form it seems that this code is optional, but reading other parts of their site it seems that not having this code is a no-go. I have sent email to them to ask if they have any suggestions on what to do. One thing I could do to easily solve this is to only send candy which has already been imported to the US by someone else, if I could find suitable partners. My volume might be too low now to get anyone seriously interested, though.
Until next time
Well, these are the things I have been thinking a lot about lately. To end on a positive note, I was able to negotiate around a 7% discount with the local supermarket for buying candy in bulk. I also managed to find someone to print envelopes for me that already have my address on them, which saves me time and money on address labels. Thanks for reading and please do share if you have ideas on how to solve my anxiety points for Candy Japan.