Recently I released this bilingual baby name finder I called MixedName, as a result of brainstorming dozens of different domain names until finding one that is available. It shows all the names that exist in two languages, for example names that are both in Finnish and Japanese.
Attempting to get long-tail traffic
My hope was that international couples like us would find that somewhat useful, and word about it would spread enough such that it would start showing up in Google searches like "japanese-english names for boys". There aren't many such searches, but since there are hundreds of language combinations, I hoped I'd make that up in volume. Kind of a long-tail approach to traffic.
The ways I tried to promote the site was to post it in relevant Facebook groups and subreddits, on all of which it was very well received. Then I also contacted ten reporters and bloggers about the site, but there were zero responses to that. I'm aware 10 isn't a large number when it comes to this, but I really hate bothering people, so trying to keep my contacts relevant and personalized.
Results
Well, it hasn't worked out so far: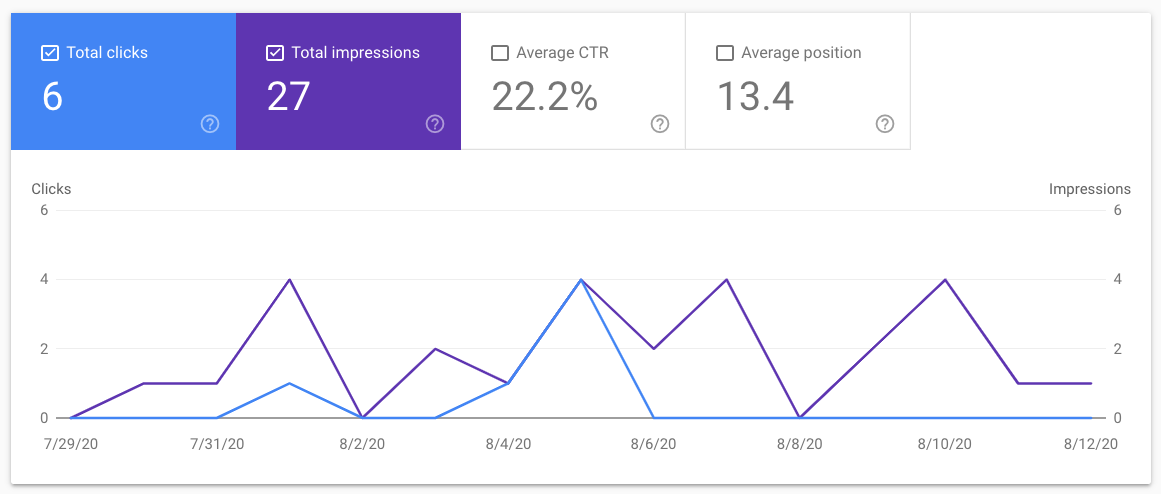 In the pic you can see that in the first two weeks, Google sent a mere 6 clicks. Yet when I did appear in results, people tended to click on the site, so I would have thought that would be a signal that this is pretty good content. Guess not.
Although it does typically take ~100 days for rankings to settle, so I suppose not all hope is lost. But I feel that the response is "this is kind of neat I guess, but not very much so".
Thanks for reading
The world isn't pulling this site from me in the way that I feel happens when something really hits a nerve, rather I feel like I need to push it. So to me this means that it isn't going to work, and I should stop spending time on this.
I've already gone back to the drawing board and started working on the next possible thing. This time challenging myself a little bit with coding something more complicated, but not sure yet if it'll result into anything releasable.